Researchers Link Morgellons to Slime Mold, dictyostelium discoidium
By Amir Alwani
Potent News
February 17, 2012
Note: Special thanks to Louise Koster for discovering this strange blob and assisting with the microscope footage.
Look what the cat dragged in!  The cat dragged in Dictyostelium Discoidium, a slime mold that researchers link to Morgellons.  Our cat literally dragged this blob in and, when we took a look at it under the microscope, it started laying bits of itself around as it was crawling inside the plastic baggie.
I am definitely no expert on this kind of thing (by any stretch of the imagination) but if I had to guess, I would say that this blob is dictyostelium discoidium.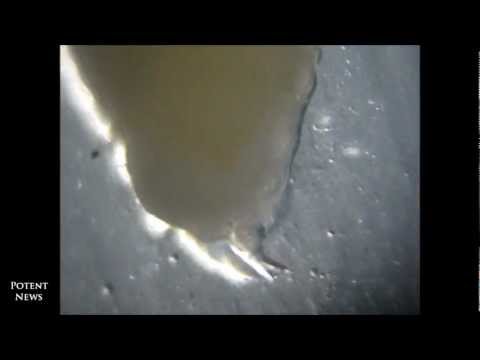 I would love to hear suggestions as to what this is if you do not think it is dictyostelium discoidium.  This is a subject that interests me very much.
Click here to see the latest Potent News posts about Morgellons.
LINKS TO THE ARTICLES/PICTURES DISCUSSED IN THE VIDEO:
———————————————————–
UPDATE #1:  While doing more research I found the following video on YouTube.
UPDATE #2: Somebody commented (around Sept. 19, 2012) at the youtube video of the "slime mold" we discovered saying that he/she had worked for a veterinarian and had seen this thousands of times and that it is a tape worm – not slime mold.  The person might be right.  I'll admit that so far nobody else has told me that they also think that what we found was dictyostelium discoidium (or that it wasn't, to be fair).  Personally, I think both possibilities are equally likely, and I invite you all to let us know what you think.
LINKS TO THE ARTICLES/PICTURES DISCUSSED IN THE VIDEO:
http://waynesword.palomar.edu/slime1.htm
http://www.rense.com/general90/update.htm
http://dictybase.org/Multimedia/index.html
http://dictybase.org/Multimedia/chemotaxis/Chemotaxis.htm