Morgellons Horror Show
Nano BioSensors penetrate and invade living matter, including humans.
Please view the entire Horror Show series by skizitgesture:
MORGELLONS HORROR SHOW 10: SENSING TECHNOLOGY IN MORGELLONS: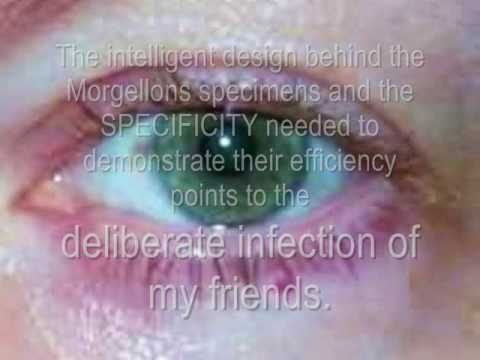 In Morgellons, sensing materials are genetically included in the biological systems which create fibers, namely bacteria and fungus. Living systems are genetically enhanced with synthetic biology and take over the human body.
The materials in Morgellons are functional sensing materials, designed for a specific purpose at a particular site in the body.
The Morgellons specimen used in this video are simply background, NOT particularly illustrations of the text.
Sensing is chemical detective work. Functionalized materials are chemically engineered to find the place in your body where they are specifically designed to do their job. Morgellons materials are functionalized for certain purposes. This identifies them as sensing materials. This video shows various kinds of sensing systems to give you an idea of how biological systems can be manipulated via sensing materials, inside the body. Your body has its own sensing systems. Your immune system is always standing by, ready to go into action in the prescence of pathogens. If someone designs material to change your immune system, they create a system which senses which cells to attack and how to attack them to achieve a particular disease path. The designers of Morgellons have knowledge of your body's sensing systems and use them to their advantage when introducing new materials by suppressing your immune system. There are delivery systems designed as fibers for injection into the human body as part of therapy for disease and this technology may be part of a Morgellons delivery system.
BIOLOGICAL WARFARE, BIOTERRORISM, BIODEFENSE AND THE BIOLOGICAL AND TOXIN WEAPONS CONVENTION
by Edgar J. DaSilva
The Consensus Conference
on the Role of Biosensors in the Detection
of Agents of Bioterrorism
MEDICAL APPLICATIONS OF FIBER-OPTICS:
Optical fiber sees growth as medical sensors
http://www.optoiq.com/index/photonics-technologies-applications/lfw-display/l…
BIOSENSORS: PAST, PRESENT, FUTURE
Professor Anthony P F Turner
http://www.canfield.ac.uk/health/researchareas/biosensorsdiagnostics/page1879…
LESSON 1: IHISTORY AND OVERVIEW OF BIOSENSORS
http://www.rocw.raifoundation.org/biotechnology/BTechbiotech/biosensors/lecture-n­otes/lecture-01.pdf
SUPRAMOLECULAR CHEMISTRY
http://en.wikipedia.org/wiki/Supramolecular_chemistry
Featured Image is from http://nanotechsensors.com/.  Nanotech videos onsite.