Morgellons Museum On Hexagon Alley
Join me for a tour of Morgellons Museum and enjoy the collection of  artifacts on Hexagon Alley.  We welcome all hexagons into the fold.
Videos of Hexagons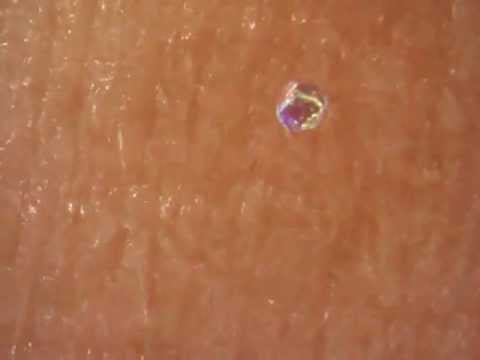 HEXAGON FOUND IN SKIN–Light Activated-Similar patent 5226902 by Skizit.
watch?v=L0bZ8Gxcz1I
~~~~~~~~~~~~~~~~~~~~~~~~~~~~~~~~~~~~~~~~
Below: These metallic hexagonal objects came from the skin of Dianna5 from Lymbusters.com. Thanks for usage!
From:
http://morgellonsdiseaseawareness.com/photo_galleries/misc_plus_morg_artifacts
Above: Fuchsia Hexagon
Above: Sapphire Hex, scratches in thin surface film
Above: Hexagon with large filament
~~~~~~~~~~~~~~~~~~~~~~~~~~~~~~~~~~~~~~~~~~~~~
Amazing Photos of Morgellons Hexagons
And other artifacts associated with the Morgellons condition.
Thanks to Shelley and pocoloco!
---
---
---
---
---
---
---
---
---
---
---
July 25th 2010
From a Morgellons sufferer on the Oregon Coast
---
 http://www.morgboard.proboards.com/index.cgi?board=general&action=print&thread=670
Another interesting link comparing abalone shells:
Re: Hanging out inside the lesion
---
The glitter found in the environment, on skin and inside my facial morgellons lesion, may not be from the Christmas tree. It turns out that the calcium carbonate in abalone shells can stack itself in hexagons….. like a Christmas tree. this hexagon is from the inside of My lesion…..is all that glitters really gold? I would sure like to unwrap this present!
from this link:    http://www.morgellons-disease-research.com/Morgellons-Message-Board/morgellons-theories-speculations/1510-hanging-out-inside-lesion-56.html
So now that we have toured Morgellons Hexagon Alley, do you think we have something here that just might indicate some New Technology?  Or have we crossed the line into Artificial Life entirely?  Or are we not Golden?  Waiting for the Dawn of Enlightenment?  I think the Patent speaks for itself!